Motorhome site Netherlands
Please note that it is not yet possible to discharge your chemical toilet or grey water. Please take this into account when booking for a longer period.
Welcome to the Maascamp, a quiet and modest camper site in Gennep that excels in its perfect location. For example, the camper place is situated at nature reserve the Maaskemp and river the Niers and in the middle of the attractive city centre. Gennep is not only known for its rich history, but also for its catering, shops and hospitality. Enjoy it!
Motorhome site in the heart of Gennep
In less than five minutes' walk and you are in the middle of the bustling city centre of Gennep, where you will be surprised by sunny terraces, lunchrooms, restaurants and cafés. For shoppers and culture snobs, there is also plenty to do in the always lively Niersstraat and Zandstraat. Tip: walk along the dike for a better view.
---
A motorhome site with cycling and hiking routes
Hikers and cyclists will enjoy their stay at the Maascamp. For example, the site is located right next to the Pieterpad and various fun walking and cycling routes. Walk for example through the Maaskemp over a number of bridges to the Genneperhuis or the Tea-house of Milsbeek. You can also cycle towards the Reichswald, a huge forest just across the German border, to the beautiful city of Nijmegen or to national park the Maasduinen.
23 Spacious motorhome sites in a green setting
Motorhome sites in the centre of Gennep, and more…
Motorhome site Maascamp lies in the historical centre, but there is no lack of nature either. From the site, you look out onto a meadow with sheep and onto the dyke behind which lies the fastest-flowing river in the Netherlands: the Niers. In the Niers valley, you will find a great diversity of landscape and nature. From pools to meadows and from kingfishers to storks nesting on the historic town hall!
The camper place is on the Genneperhuisweg, which runs straight through the grassy Maaskemp and ends at the ruins of the Genneperhuis. From here you can see how the winding Niers flows into the Maas and you have a view of the Unesco-awarded Maasheggen landscape.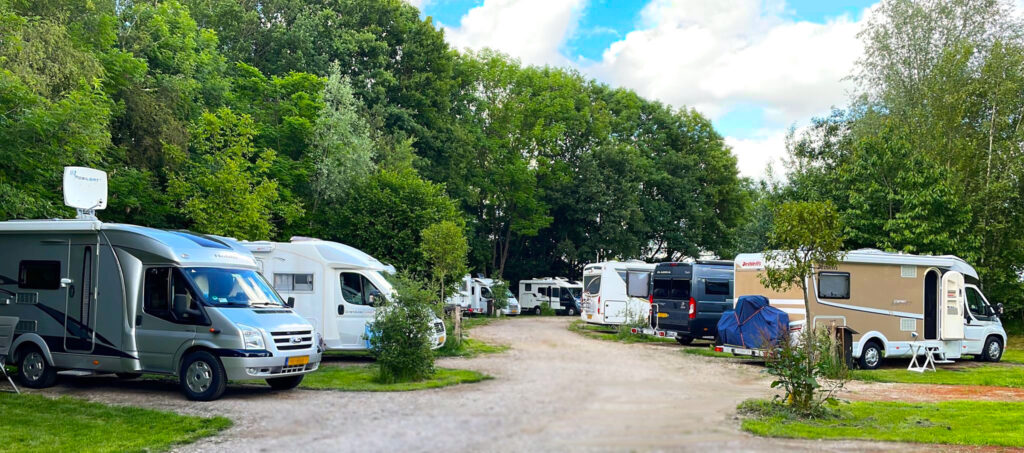 Of the so called 'Genneperhuys', once the centre of the region, today only a ruin can be found. From the watchtower, you have a wonderful view of the impressive natural landscape.
Experience the nature of the Maaskemp, Maasheggen and Niersdal
Motorhome site facilities
A 10-ampere electricity point is reserved for each camper site. In addition, there is a water point and taps on the site. Each pitch has its own grassy area for putting up the awning and two bicycle racks.
The grey water and chemical toilet dump is expected to be built next summer. We depend on the connection to the municipal sewage network. You can read more about our facilities here.
Assured of a nice spot
In just a few minutes.
Atmosphere right to your motorhome door